WE MAKE SURE YOUR YARD LOOKS THE WAY IT SHOULD.
We provide safe, quality stump removal and grinding services to home and business owners in all of Connecticut. Tree stumps are an eyesore that creates a number of problems, including insects and disease. You may be tempted to try removing the stump yourself, but doing so improperly can lead to more problems, including serious injury.
LAWN INSTALLATION SERVICES
ABOUT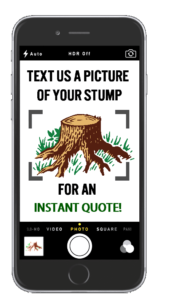 Stumpers may be a small family owned company but we have the equipment and workforce to handle any size stump removal job.
We currently work with over 100 tree services, landscapers & general contractors throughout Connecticut as well as towns and cities. Whether it be residential, commercial or municipal, Stumpers can handle your stump removal needs.

"Quality Work"

They showed up on time and they were very concerned about the quality of their work. Great company!

The crew did a great landscaping job for us for a reasonable price and within a short period of time. They were responsive, accommodating and made great suggestions, of which we did not even think. As a result, we have a beautiful private back yard. Awesome job!!!!

We took down about 40 trees on our property and were left with a huge mess of rocks and stumps. We found Anthony the owner of Stumpers and he exceeded our expectations completely! He and his workers got rid of all the stumps, rocks, and seed almost an acre and a half of our property! All in 90+ degree weather! They put in long hours and got the job done and we couldn't be happier! He really listened and was very fair in price! No job too big or too small, I know these guys will do a great job! We highly recommend this company!

"Great Job."











—

homeowner in Wilton, CT

Polite and quick. Did a professional job. Cleaned up after.

This company was able to remove our tree stump very quickly after being contacted. They did a great job at the removal and back filled with dirt and seeded. Left the jobsite spotless. Very happy with the job.
"Removed Tree Stump"

I had a huge Sycamore tree stump in the middle of my front lawn that was a complete eyesore. Stumpers came and completely removed the stump, the wood chips and then laid down top soil so new grass could grow. Not only were they efficient but they did such an amazing job. There was no debris on my lawn and everything was neatly cleaned. The grass even came in so nicely! I would definitely recommend them!!

"Tree Stump."

This company was able to remove our tree stump very quickly after being contacted. They did a great job at the removal and backfilled with dirt and seeded. Left the job site spotless. Very happy with the job.

They did an amazing job. They removed 8 stumps that were right in a row and did an amazing job. Its so good, you would never know that there was a big tree stump. I would highly recommend them to everyone and I will definitely hire them again.

Right from the beginning Anthony was a complete professional. I had a huge lawn (almost 2 acres) with tons of stumps and rocks, he removed them all, regraded and seeded. He was fast and efficient and went above and beyond our expectations. Didn't realize they still made young men this ambitious any more but was proven wrong, I'd recommend them highly, great job!

I was very pleased with the work Stumpers did. Not only was Anthony very pleasant and professional to deal with, they came when promised, removed all the remaining roots I had from taking a huge tree down earlier and left my yard completely clean. Even added topsoil to the areas. I would recommend them to anyone.