Don't Let Your Yard Stump You
Your yard should always make you smile, it should be something you're proud of. We help you with lawn installation and stump grinding.
Overview
The aftermath of a hurricane is what inspired owner, Anthony Donofrio, to open Stumpers in 2011. Anthony realized that after trees came down there were still unsightly stumps littering everyone's properties.
Since then, Stumpers has made it their mission to remove tree stumps quickly and affordably while guaranteeing 100% customer satisfaction. Stumpers may be a small family owned company but we have the equipment and workforce to handle any size stump removal job. We currently work with over 100 tree services, landscapers & general contractors throughout Connecticut as well as towns and cities.
Since we are passionate about our work and are always striving to be on the cutting edge, we now offer a range of other services from full lawn installations, leveling & grading, stump excavation and in the winter commercial snow removal. Whether it be residential, commercial or municipal, Stumpers can handle your stump removal needs.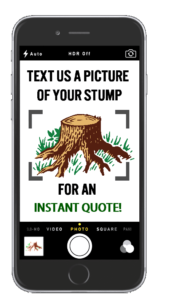 203-414-5431
"Removed Tree Stump"

I had a huge Sycamore tree stump in the middle of my front lawn that was a complete eyesore. Stumpers came and completely removed the stump, the wood chips and then laid down top soil so new grass could grow. Not only were they efficient but they did such an amazing job. There was no debris on my lawn and everything was neatly cleaned. The grass even came in so nicely! I would definitely recommend them!!

"Tree Stump."

This company was able to remove our tree stump very quickly after being contacted. They did a great job at the removal and backfilled with dirt and seeded. Left the job site spotless. Very happy with the job.

"Quality Work"

They showed up on time and they were very concerned about the quality of their work. Great company!

"Great Job."











—

homeowner in Wilton, CT

Polite and quick. Did a professional job. Cleaned up after.